HACH offers a wide range of E-chemical Solutions in the Field and in the Lab for pH, Temperature, Conductivity/TDS/Salinity, Oxygen (Luminescent Dissolved Oxygen Technology), ORP and ISE (ion measurements).   
| | | |
| --- | --- | --- |
| Digital electrochemistry with HQD meters and IntelliCal electrodes | | Your reliable field partner |
Turbidimeters Benchtop and Portable
| | |
| --- | --- |
| 2100Q Portable Turbidimeter | TU5 Bechtop Turbidimeter |
| | |
| | |
Lab: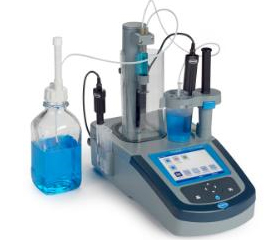 TitraLab® AT1000 Series Potentiometric Titrator
Portable: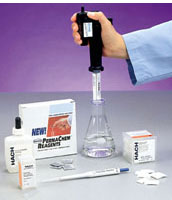 Hach's Digital Titrator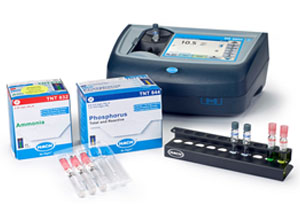 DR3900 Visible scanning Benchtop Spectrophotometer

HACH
is well known for photometric solutions in the lab. Designed to meet a variety of needs, Hach Spectrophotometers and Colorimeters are accurate, versatile and easy to use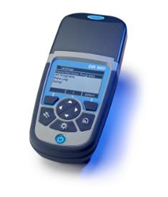 DR900 series Colorimeters High-value, high-capability field instruments for water quality analysis

Hach "single-test" packages provide fresh, consistently formulated reagents in convenient, single-dose quantities. Powder Pillows, AccuVac Ampules, LCK Vials, Digital Titrator cartridges and prepared standards contain pre-mixed and pre-measured quantities of reagent to reduce or eliminate preparation, measuring, and mixing. Reagent formulations are highly consistent and meet strict analytical criteria, with Certificates of Analysis available for every lot.

Hach reagents: Ready-to-use. Fast approved analysis. Precise: with reliable results in everyday practice. Economic: Investment for the future.
Affordable analysis for semi-quantitative fast results. You can choose between test strips, Color Cubes and disks and Drop Count tests.

Free & Total Chlorine Test Kit, Model CN-66 with Color Disc Method

Hardness (Total) Test Kit, Model HA-71A, Drop Count Titration, Dual Range



5 in 1 Water Quality Test Strips measure Free&Total Chlorine, Hardness, Alkalinity and pH just in 1 strip
Portable Environmental Labs
From flasks to beakers to viewing tubes, everything you need is supplied with Hach Portable kits. Different models and configurations are available to suit even the most demanding field tasks; from Drinking water and wastewater to Professional Water treatment portable kits.

Hach's rugged DREL and CEL Portable laboratories are the ultimate in convenience and versatility. They include everything you need for analytical results with lab-grade accuracy, even when the nearest lab is hundreds of miles away.
[Back to top]